Article About Home Remodeling – History & Current Trend!
Sonia Frazier, 11 months ago
2 min

read
118
The history of home remodeling dates back to ancient civilizations, where people would make modifications to their homes to improve their functionality and appearance. In ancient Rome, for example, people would add decorative features such as frescoes and mosaics to their walls. During the Middle Ages, home remodeling often involved the addition of fortified walls, towers, and moats to protect against attacks from raiders.
In the centuries that followed, home remodeling continued to evolve as people sought to improve their living spaces and increase the value of their homes. In the 18th and 19th centuries, the Victorian era saw a surge in home remodeling, with the addition of ornate details and the popularization of the "front parlor," a formal reception room used to entertain guests.
Remodel Your Home with Current Trends!
There are a number of current trends in home remodeling that reflect the changing needs and preferences of homeowners. Some of the most popular home remodeling trends include:
1 Energy efficiency: Many homeowners are choosing to remodel their homes to make them more energy efficient. This can involve adding insulation, upgrading to energy-efficient appliances and windows, and installing solar panels.
2 Open floor plans: An open floor plan, in which the kitchen, living room, and dining room are combined into a single space, is a popular trend in home remodeling. This allows for more flexibility in the layout of a home and can create a more spacious feel.
3 Universal design: Universal design is the practice of designing spaces that are accessible and usable by people of all ages and abilities. This includes features such as wider doorways and halls, lower countertops, and lever handles on doors and faucets.
4 Smart home technology: Many homeowners are incorporating smart home technology into their remodeling projects. This can include features such as smart thermostats, smart lighting, and home security systems that can be controlled remotely using a smartphone or voice-activated assistant.
5 Outdoor living spaces: Homeowners are also increasingly focusing on outdoor living spaces, such as patios, decks, and outdoor kitchens, as part of their remodeling projects. These spaces can provide additional living and entertaining areas and can be designed to blend seamlessly with the interior of the home.
Conclusion: Before starting any remodeling project, it is important to assess what you need and want in a new space. This will help you decide which type of remodeling is best for you.
Related posts
Subscribe for newsletter
"]
* You will receive the latest news and updates on your favorite celebrities!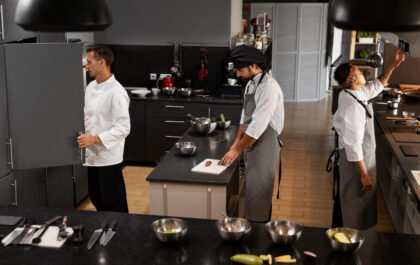 Benefits of Outsourcing Your Commercial Kitchen Services
Outsourcing commercial kitchen services is becoming increasingly popular among restaurant owners and food service providers. It is a cost-effective way…
Kitchen and Bath Installation in Toronto: Everything You Need to Know
If you're planning a kitchen or bathroom renovation in Toronto, one of the most important decisions you'll make is choosing…